Destination Management Company

Platform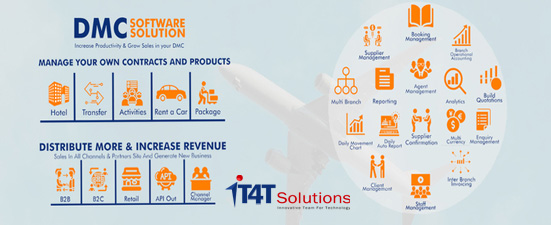 We are proud to present our robust Destination Management Company (DMC) Software Solution, recognized as the premier choice for both inbound and outbound DMC operations. Our solution is meticulously crafted to enhance efficiency in online inventory management, group travel coordination, and seamless sales processes, catering specifically to the unique needs of Inbound and Outbound DMCs.
Key Features:
Effortless Business Operations: Our solution empowers DMCs to consolidate all aspects of their business operations within a single, user-friendly platform, fostering optimal conditions for business growth.
Ease of Use and Security: Boasting features that are both intuitive and secure, our system ensures a smooth user experience. Additionally, it supports XML integrations, third-party API integration, multi-language, multi-currency functionalities, automated booking processes, and the preparation of land product schedules.
Query Management: Facilitating comprehensive query management, our solution allows for the assignment of queries to team members, the generation of multiple quotes per query, and the seamless transition from query to booking with a few simple steps.
Booking Enhancement: Through features such as follow-up management, reminders, and other tools, our solution aids in boosting booking numbers and streamlining the entire booking process.
Diverse Product Management: Manage a spectrum of travel products, including hotels, flights, tours, transfers, activities, packages, and car rentals, all within a system equipped with the latest features and functionalities designed to maximize profitability for DMC operators.
Global Connectivity: Our DMC Solution facilitates API Out, allowing you to market and sell your products globally via XML to other agents. This extends your product offering, reaching a wider audience and fostering mutually beneficial partnerships with global suppliers.
Branch and Currency Management: Easily manage multiple branches and different currencies with varying market rates, providing flexibility and adaptability to diverse market conditions.
API Integration for Expansion: By seamlessly integrating with other global suppliers, our DMC Solution assists travel companies and DMCs in expanding their product offerings and reaching a wider global audience, thereby enhancing overall business reach and profitability.
In summary, IT4T's DMC Software Solution is designed to streamline processes, boost productivity, and elevate the capabilities of Destination Management Companies. Whether it's accommodation, transfers, car rentals, sightseeing, events, or other services, our solution ensures comprehensive management both online and offline.
We look forward to the opportunity to discuss how our DMC Software Solution can contribute to the success and growth of your business. Please feel free to reach out to us for a personalized demonstration or to address any inquiries you may have.
All in One

Platform

A comprehensive platform that covers all your requirements to run a successful Destination Management Company