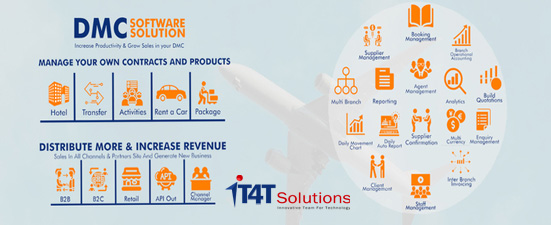 We provide DMC Software Solution which is best DMC Solution for inbound & outbound DMC. It facilitates online inventory management, group travel and manages sales process smoothly. This Solution is specially designed for Inbound & Outbound DMC. We help DMC to manage complete business operations under one solution which allow to grow their business. It comes features which is easy, fast & secure, system also allow with XML integrations, Third-party API Integration, multi language and multi-currency, automate booking, preparing land product scheduler, multiple payment gateway integration.
Our DMC Solution allows to manage query into system, assign queries to team members, prepare the multiple quotes against query, manage query life cycle; get the query approvals and convert a query into booking with simple steps in system. Set follow-ups on queries, reminders on follow-ups and so many features which helps to bost your booking numbers.
Our DMC solution allow to manage travel products – Hotel, Flight, Tour, Transfer, Activity, Package, Car rental. It is build with latest features and functionality that maximize profitability for DMC Operators. It allows to manage different branches and different currencies with different market rates into system.
IT4T's DMC Solution allows for API Out as well, it allows to sell your products via XML to other agents in the market. DMC solutions helps travel companies and DMCs distribute inventory with other global suppliers, helps them to expand their product offering and reach wide audience worldwide. DMC Module helps to manage purchasing of different services and then distribution those into network where experts of different markets and destinations. This offering helps to extend company's reach with many global suppliers for mutual benefits.
IT4T provides best Destination Management Companies (DMCs) that assist to streamline processes and boost productivity. Our DMC software solution allows to manage accommodation, transfer, car rentals, sightseeing, events, one way or return transfers, sightseeing with or without transfers as well as other online and offline services like VISA etc.
DMC Solution

to Your Company

IT4T Provides good range of solution with many advance features under DMC Solution, here is quick points for reference