B2B Travel Booking Engine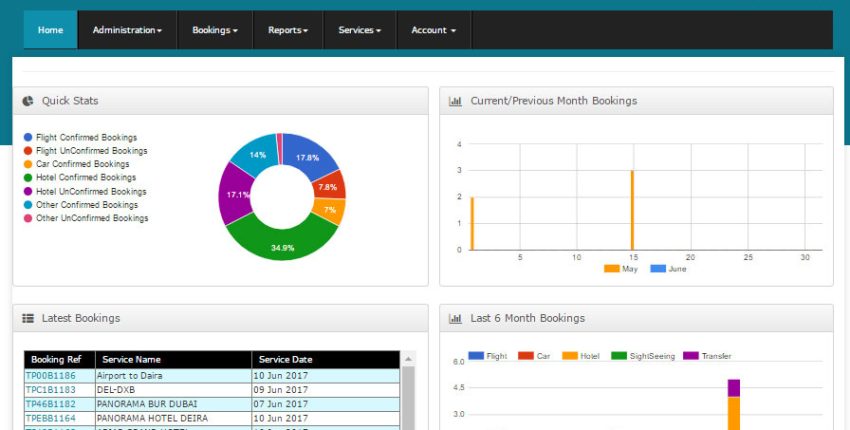 B2B Travel BOOKING Software
B2B Booking Engine by IT4T is fully customizable solution for your travel business requirements. Solution is built on advanced technology, our team constantly putting efforts to keep it updated and secure, and keep pushing with latest features which helps to OTAs for better performance and increase in sales. IT4T team have rich experience in the travel domain and we are always working with the latest market trends for the software we develop.
We aim to work closely with our client's requirements to develop / enhance modules that simply work as per clients requirements. All the essential modules are present in our B2B booking system you can apply markup policies dynamically, display real-time availability in LIVE environment, manage credit limits, manage role rights for internal staff as well. IT4T partners with leading suppliers for our solution, and client can pick / choose any supplier integration in system. By choosing IT4T will save costs of implementation and increase efficiency on investment in your business with dedicated technical team to support all day to day operations.
B2B selling is most profitable sales channel and provides big opportunity to travel companies to expand their business into global market. B2B travel booking software is suitable for all size travel companies, OTAs, travel agencies, destination management companies. You can sell your own contracted rates under B2B module or third party XML supplier's inventories that provides products at best rates. You can expand your business across the globe with the help of B2B booking engine through sub-agent network which directly increases sales of your business.
Our B2B Travel operations software such as flight booking, hotel booking, package booking, sightseeing booking, car rentals, transfer booking, and Visa built with all essential tools that can integrate third-party suppliers and allows you to manage your own contracted products, apply markup at run-time, apply agent wise markup, apply business rules and easily increase business sales. By using B2B agents reservation portal, your agents can logon to your B2B reservation portal, search and book products, apply own mark-up and pay for booking by online or credit limits assigned to them. Agents can view from booking panel, their booking details, voucher, tickets, payment receipts or manage booking of their customer at any time.
We have dedicated team to work on projects, experience team to wok and deliver the work. Quick development with latest technology and integrations. Some of the quick features in B2B Travel Booking Software – 
Responsive design with HTML5 and CSS3
Quick Booking Steps – Search, Review, Pay, Book
Multi-Lingual & Multi-Currency website
Auto Booking Confirmation emails
IP Tracking for Currency and Language
Multi API integrations (Supplier, Aggregators, GDS)
Multiple Payment Gateway for different Currency
Client Login Platform for bookings